Thank you for your interest in our Rule Exclusion Cheatsheet.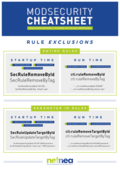 Given your interest in ModSecurity and the Core Rules, we would like to keep in touch. Please fill in your email address, so we can update you about new tutorials, blogposts and training courses.
Privacy: We use cleverreach to manage the subscriptions.
Other than that, we keep your address for ourselves. Promise.
No Spam: We will only get in touch on rare occasions.
And if we do, it will be content and not a pure sales pitch.
Unsubscribe: If you want us to forget your address,
then please drop me a line.
You are not convinced, yet you really want the high resolution cheatsheet? Here is your direct link.